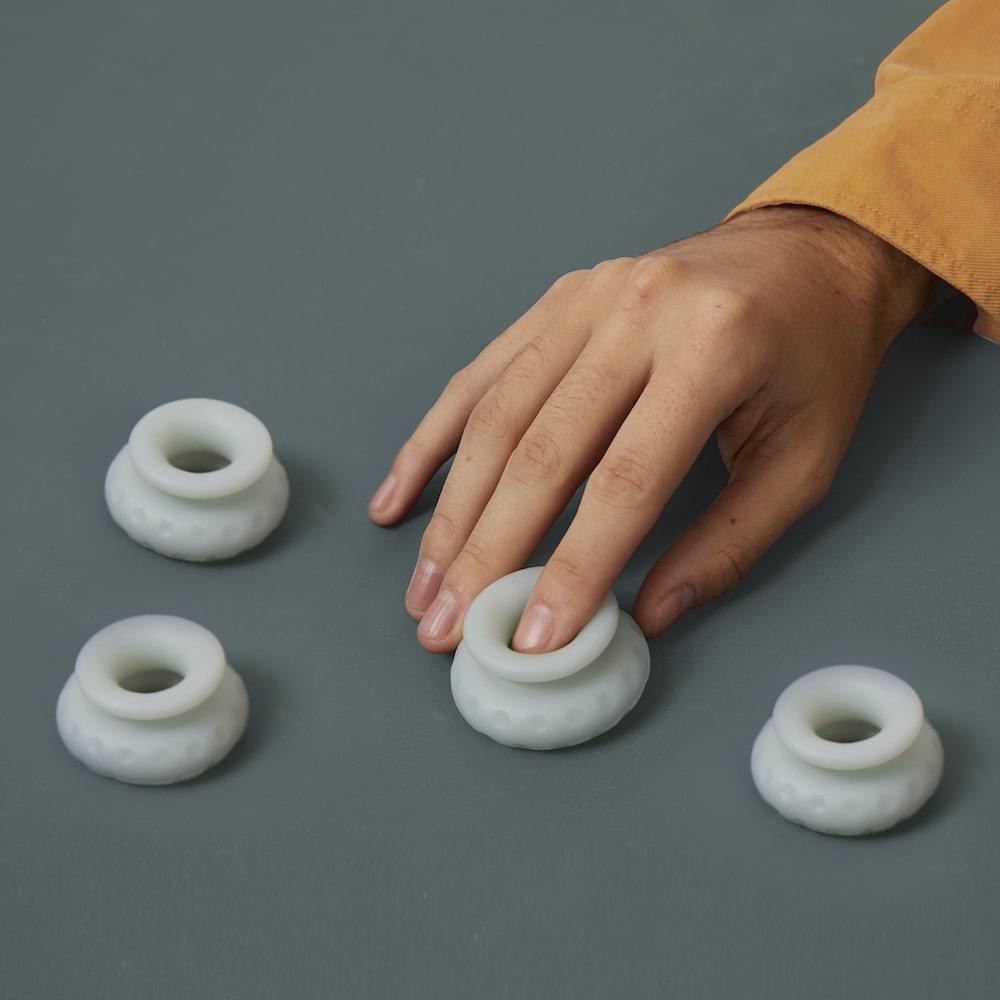 Ohnut Depth Control Rings
Ohnut was designed with pelvic specialists for people who experience discomfort during sex. This revolutionary wearable allows couples to customise penetration depth, without sacrificing sensation for either partner.
It is made from 4 comfy stretchy rings that can be linked together or worn individually around the base of a penetrating partner (penis or toy), and act as a bumper :) You can explore adding and removing rings at any time with any position so that both you and your partner can focus on what matters most - connection, enjoyment, and fun!
Painful sex (or dyspareunia) can happen for a whole range of reasons, including:
Endometriosis
Adenomyosis
Pelvic floor dysfunction
Interstitial cystitis
Fibroids
Pelvic inflammation
Pelvic floor muscle spasm (vaginismus)
Menopause (genitourinary syndrome of menopause, or gsm)
Cancer treatments (including chemotherapy and radiation therapy)
Chronic pain (vulvodynia)
Post-surgical vaginal swelling
Postpartum pain / sex post-baby. 
Specs
:
Material: Elastomer polymer, an FDA approved body-safe material. 
Size: Ohnut's width stretches to 20.3cm, and its 4 rings are 7cm tall 
Waterproof: Yes
Warranty: 1 year.
Product features

:
Comes with 4 soft rings, a travel pouch, and clever conversation starters 
BPA, phthalate, silicone and latex-free
Compatible with silicone and water-based lubricants, can be worn over a condom.

Sizing recommendations:
Think about the condoms you and/or your partner normally use, that will help narrow down which Ohnut will be most comfortable! When in doubt about sizing, order the Wider Ohnut. It's unlikely to be too wide for effective use.

Classic: "Standard" or "regular" condoms; Lifestyles Snugger Fit, Slim Fit, or similar
Wider: Trojan Magnum, Durex XXL, or similar; or if a looser fit is preferred.

The Wider Ohnut is 15% wider than the Classic Ohnut and stretches up to 50% more. All Ohnuts are made with a soft material that stretches significantly for comfort.