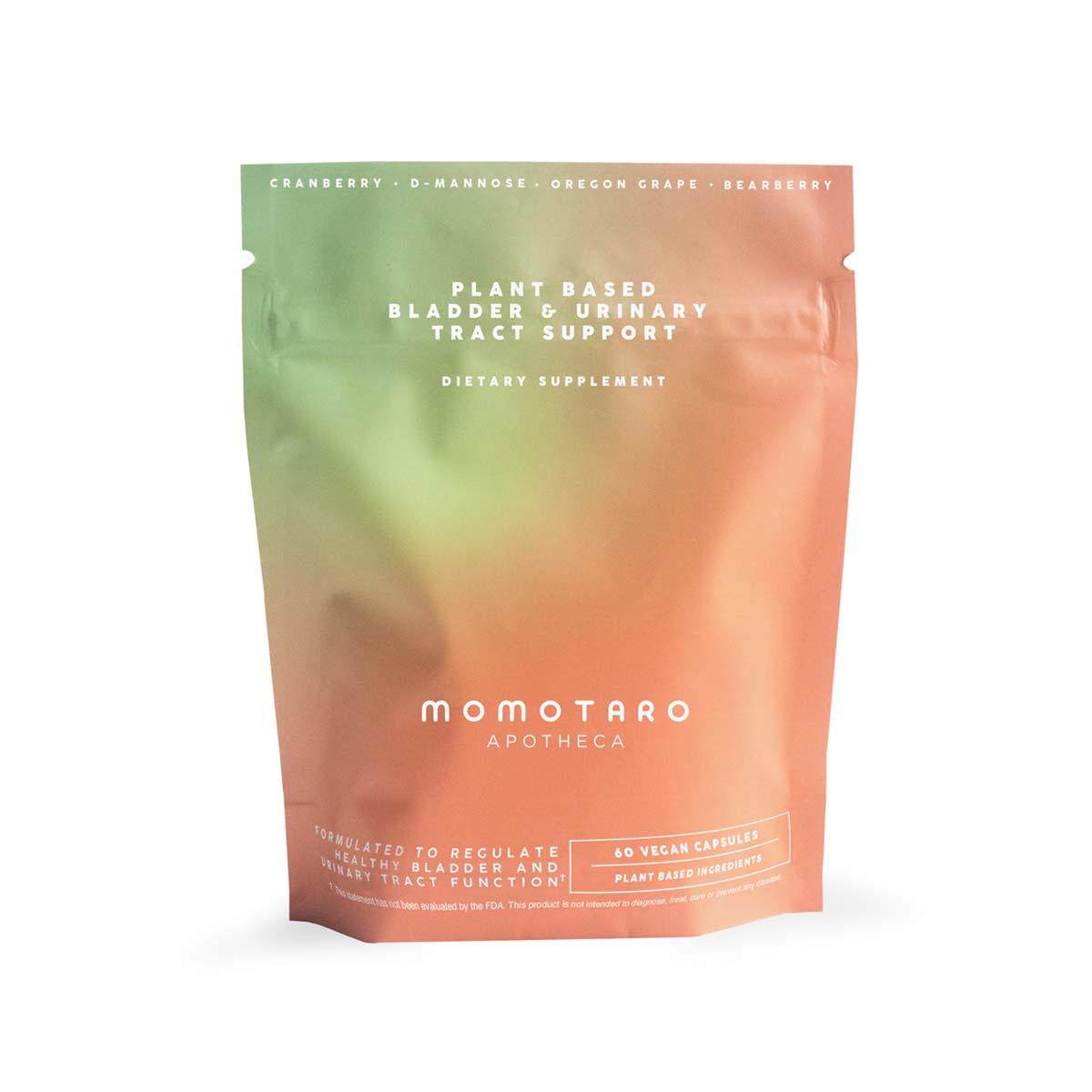 Momotaro Apotheca UTI Supplement
Goodbye antibiotics, hello vaginal wellness! This all-natural supplement addresses acute and recurrent UTIs at the source with p
lant derived and flora-friendly ingredients that have been shown in clinical settings to target and remove the pathogens associated with most UTIs from the urinary tract.
Relieve symptoms associated with UTIs

12:1 fruit concentrate means the supplement is loaded with over 3000 mg of cranberry

Proanthocyanidins (from cranberry fruit)

Soothe/Relieve symptoms of infection without disrupting pH balance, hormones, pheromones, or medication

100% plant-based alternative to antibiotic treatments

Comfortable, convenient, organic ingredients

Effective for acute and recurrent UTIs

60 capsules.
Key ingredients:
D-Mannose is a monosaccharide found in fruits and plants that can reduce symptoms and the risk of recurrent UTIs. Unlike an antibiotic, D-mannose does not "kill" bacteria; it acts like a magnet, connects to the harmful bacteria, and carries it out of the body through urination. 
Cranberry fruit is an ancient remedy for UTIs. Proanthocyanidins - the chemical compound found in cranberry fruit - can act similarly to D-Mannose, by preventing some pathogens from sticking to the bladder's walls. 
Oregon Grape is an ingredient found in many Momotaro Apotheca products because of its key alkaloid component, berberine - a naturally occurring and potent antimicrobial. 
Uva Ursi and Marshmallow Root were both carefully selected for their support of the healthy bladder and urinary tract function.
Recommended ritual:
For individuals 13 and older. Use only as directed. Take 2 capsules with a large glass of water 2-3 times a day, or as directed by your healthcare practitioner. For ongoing support, take 1-2 capsules daily.

Organic and cruelty-free formula made without parabens, phthalates, silicon, sulfates, or synthetic fragrance:
D-Mannose, Cranberry Fruit (vaccinium macrocarpon), Oregon Grape (Mahonia aquifolum), Bearberry (Arctostaphylos uva-ursi), Marshmallow Root (Althaea officinalis), Brown Rice flower (oryza sativa), Rice  Hulls (Oryza sativa), Vegetarian capsule.
Please note 

If this is the first time you are experiencing symptoms of any kind, consult a medical professional

Always seek medical advice before use if pregnant, breastfeeding, or taking medication.

Discontinue use if symptoms last more than 7 days and/or you experience an allergic reaction.

Keep out of reach of children and pets.